After a busy day exploring our beautiful part of the world, there's nothing like coming back to your own comfortable, well-appointed room – with everything you need right there.
The Doolin Inn has 22 modern non-smoking rooms of different sizes, and all with private bathrooms. We've made sure our hotel experience and world travels have translated into providing the kind of rooms our guests want: a cosy bed for a great night's sleep, quality furnishings in warm, relaxing tones and many additional conveniences. In 2012, 2016 and 2019 we continually refurbished, developed and designed our rooms to exceed our guests' expectations and constantly strive to be our best.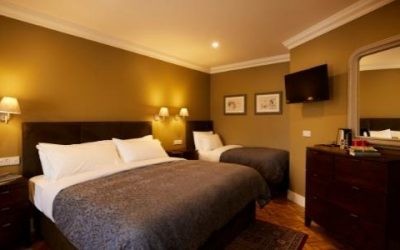 Our Deluxe Double or Twin Rooms are our most spacious double rooms, or as a twin room with a 5ft Queen and a 3ft single bed. Each room comes with a double and single bed. These rooms also come with a seating area, free wifi, a 32″ smart TV with Netflix, a table, tea...
read more