The Cliffs of Moher are a Signature Discovery Point at the heart of Ireland's Wild Atlantic Way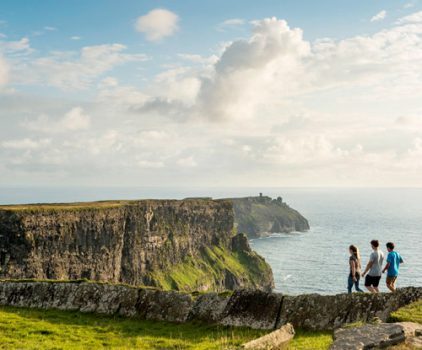 Visit Cliffs of Moher
Prepare for the ultimate sensory experience at the awe-inspiring Cliffs of Moher. Located on County Clare's West coast, the Cliffs stretch for 8 km /5 miles and 214 metres/700 feet above the Atlantic Ocean. The Cliffs have existed for millennia and for centuries have attracted visitors who have been captivated by their splendour and majesty. You can visit O'Brien's Tower, built in 1835 to accommodate guests who were visiting the cliffs even back then. The Cliffs present a hugely enjoyable and memorable family day out with up to 4 children under 12 admitted free of charge.
The Cliffs are home to over 60,000 nesting sea birds and the popular puffins can be seen from April to July. There are over 750 m of pathways within the Visitor Centre, with raised platforms for great viewing and 20 km of a walking trail connecting the villages of Liscannor and Doolin.
The award-winning eco-friendly centre has been built nestled into the hillside and features a restaurant, cafe, visitor information, and gift shops.
The unmissable cliffs exhibition animates the story of the Cliffs, presenting the geology, wildlife, and human aspects in an entertaining and informative way.
Tickets are available to purchase at Doolin Inn reception.