The Aran Islands consistently remains one of Ireland's top tourist attractions, and is a must see for everyone!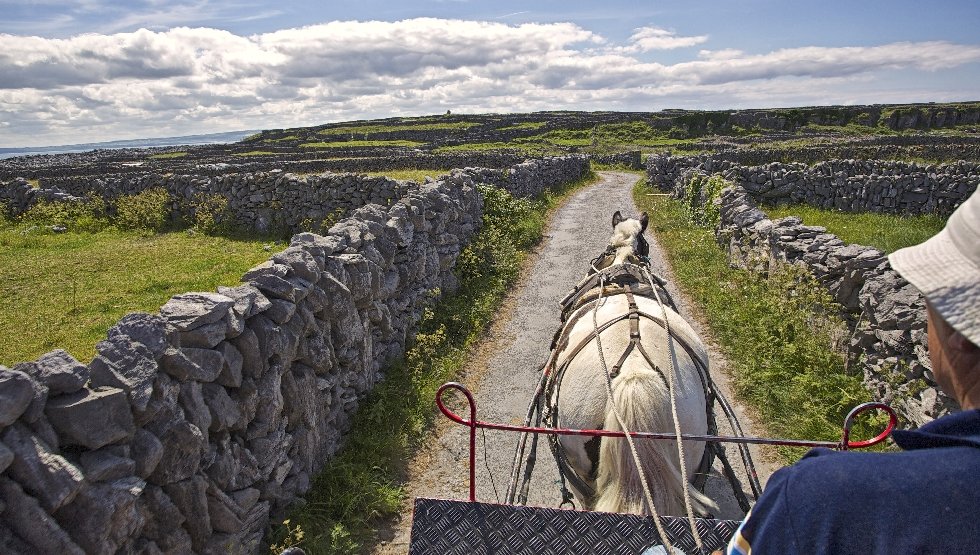 Aran Island Day Trips from Doolin
Located off the Atlantic coast from Galway, the three islands " Inis Mór (Inishmore – "Big Island"), Inis Meáin (Inishman – "Middle island") and Inis Oírr (Inisheer – "East island") are famous for their geology, history and culture, as well as their retention of the Irish language. The Aran Islands are one of the few places were people in Ireland still speak Irish in daily life.
Spending a day on the Aran Islands will transport you back in time, as you take in the lush green scenery while walking on the narrow roads, surrounded by thick stone walls. You can take a guided tour, or a trip on a pony and trap, or simply hire bicycles and explore the beauty of the islands' winding roads and beaches in your own time.
There are lively pubs, cafes and restaurants waiting to host you and ensure you round off your trip contented, with a satisfied appetite and full of unforgettable memories!
To travel to the Aran Islands – there is a ferry company which operates from Doolin Pier, the service operates generally from March until October each year. The route from Doolin to the Aran Islands is the quickest route by sea to the islands.
Book your trip to Aran Islands from Doolin2Aran Ferries or if you're staying with us at Doolin Inn, avail of your guest discount and book on your in-room tablet.