How Long to Stay
So how many days should you spend in Doolin? Most of our visitors agree that if you stay for two nights, you'll wish you'd booked for three! And stay a bit longer and you will definitely want to come back again very soon. We've put together some time slots which may help you calculate the minimum time you need to explore all the local attractions and activities. Have a look at our Stories page for some more detail and ideas as to what you can do and see.
Travel Tip! Depending on the time of year, daylight varies from 5am to 11pm in the summer to 8am to 4.30pm in the winter. Temperatures don't vary greatly, at 4-18C (winter – summer)  – so be sure to bring a water proof jacket, warm sweater and a good pair of boots.
Cliffs of Moher Coastal Hiking Walk – 12km long, Visitor Centre at 8km point
Starting from our doorstep, allow 2 1/2 hours to walk to the Visitor Centre, 2 hours for the Centre itself and  Viewing Point – then 2 hours to return on the hike. You can also get a taxi back down or Bus Eireann bus (15 mins journey time). Catching the evening sunsets up at the Visitor Centre viewing area is a must, especially in Spring and Autumn where you can enjoy stunning red skies, with the sun setting behind the Aran Islands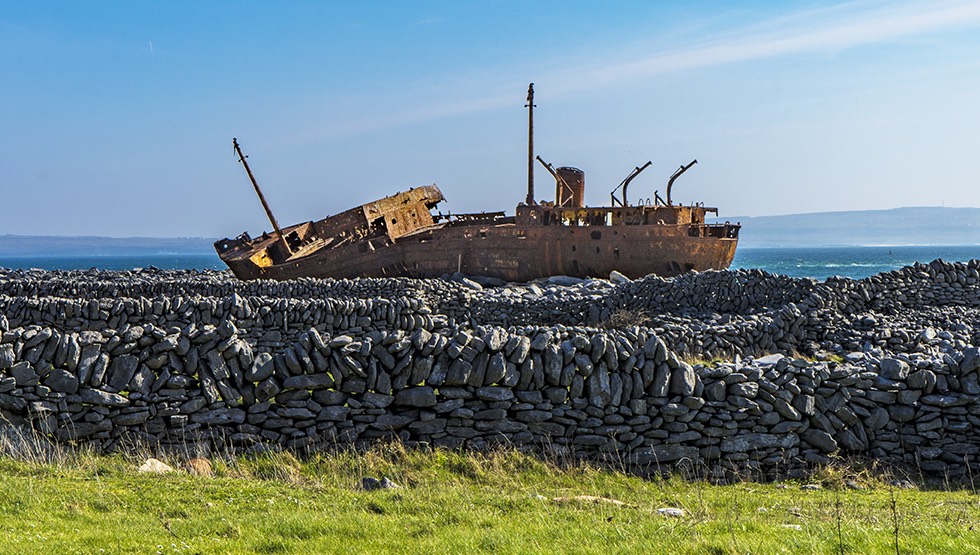 Aran Islands and Cliffs of Moher Cruise Day trip
This trip begins with a 15 minute walk to Doolin Pier, to catch the ferries. Allow a full day to visit one of the Aran Islands (Inisheer, Inis Mean or Inis Mor) and take the cruise under the Cliffs of Moher. Leave in the morning – 9 /10am – returning around 3-5pm. You can also include the Cliffs of Moher 1 hour cruise – returning on shore at 5/6pm. The ferries operate early March to early November.
Doolin Cave and Nature Trail
See the largest stalactite in Europe, and one of the biggest in the world – just  5km from the Inn. The nearest bus stop is Ballinalacken Castle, on the 350 route to and from Galway. Allow 1 1/2 hours for the tour and nature trail – remembering that there is also a good café onsite where you can enjoy lunch and snacks throughout the day.
Rent a Bike for a day or two and tour around the Burren UNESCO Global Geopark
Sight-see this beautiful part of the world at your own pace. A full day out exploring the unique landscape is a must – letting you take in the unique flora, fauna, megalithic tombs, castles and forts as you go. The Burren and Cliffs of Moher UNESCO Geopark is not only one of the few Geoparks to receive such distinction in the world, but has just been shortlisted for a National Geographic World Legacy Award.  Spots to enjoy along the way are:
Lisdoonvarna – Spa Wells with Sulphur Springs and The Burren Smoke House
Kilfenora – Some of the finest examples of Celtic High Crosses and the Burren Center
CaherConnell Fort, which is currently under archaeology dig.
Lemenagh Castle
Burren Perfumery which produces some of the finest fragrances using the unique wildflowers of the Burren.
Michael Cusack Centre, the home and interpretative centre celebrating the founder of  GAA Sports (hurling and football).
Aillwee Cave and Birds of Prey Sanctuary as well as Burren Cheese, just outside Ballyvaughan,
9 Geo Sites
The Blackhead Coast Road via Fanore back to Doolin, rated as one of the most beautiful coastal drives in the world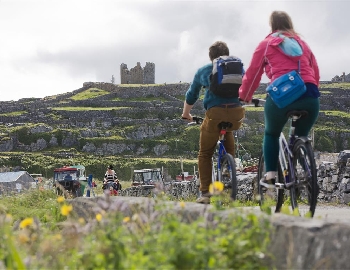 Take a Guided Walk
The area has 200km of hiking trails to choose from – taking you across some of the most unique and spiritual land you can imagine. Of course, if you truly want to get an appreciation of what shaped the history, culture and nature of this inspiring land – choose to enjoy the company and guidance of a local, professional guide. You should allow 4 days for a tour like this, depending on your interests.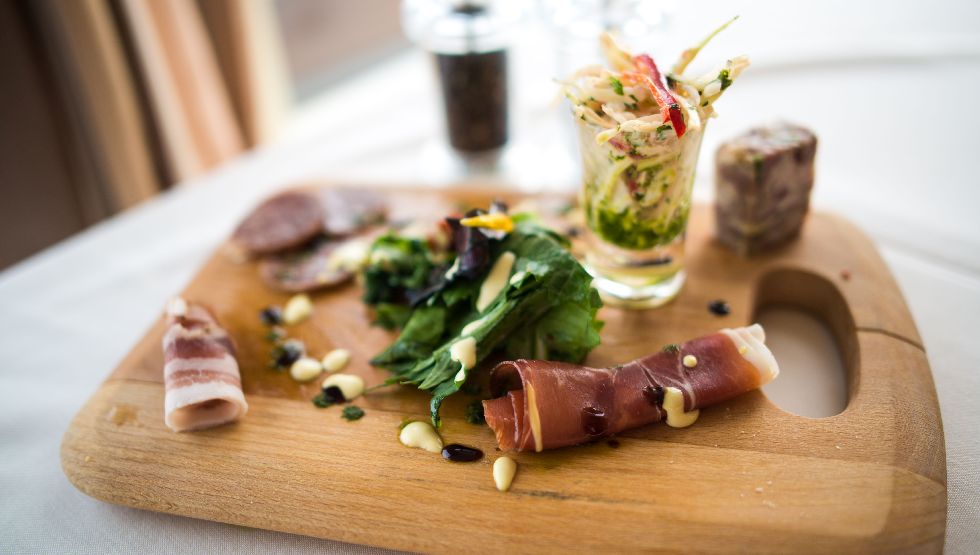 Glorious Food
The Burren was named 'Ireland's Food Destination 2015' and a 'European Destination of Excellence for Gastronomy'.  Located on the wild Atlantic shores, fresh seafood is in abundance, while the land rich in limestone produces beef and lamb of unique texture and flavour. From Michelin Star to hearty pub fare – it's all here. The more adventurous might also enjoy seaweed foraging, or catching their own supper, fresh from the sea!
Do at least one adventure activity
Doolin is surrounded by Ireland's most beautiful, natural playground – offering some of the best surfing, bouldering, rock climbing, sea kayaking as well as about 250 caves to explore. Most providers we recommend pick up and drop you back to the hostel or are easy to get to, via public transport. Allow 4 hours for any of the above activities.
Day Trip to Galway and Kinvara
Catch the 8.35am bus to Galway, take in the scenery as you wind your way through the Burren, then explore and shop in the beautiful city. Take the mid afternoon bus back to Kinvara and explore this charming coastal village. This is also a good chance to stop off at the Burren Nature Sanctuary – a real treat for kids who love fairy forests. You can then catch the early evening bus back to Doolin, arriving at 7.45pm.
Day Trip to Ennis and Bunratty
Take the 8.10am or 10am Bus to Ennis and transfer to Bunratty, to explore one of the finest Norman Castles in Ireland. Then go back to medieval times as you stroll through the fascinating folk park. Travelling on you can then explore the winding medieval streets of Ennis market town – before catching the early evening bus back to Doolin, arriving at 7.50pm.