The Tourism Space Bootcamp at Doolin Inn
2-Day Masterclass Residential Bootcamp
Does any of this sound like you?
You are ambitious but time-challenged.
You see lots of opportunities but are unsure which ones to pursue.
You struggle to set targets and plans for your business (or at least to stick to them) and want to be more strategic.
You feel trapped in your business, edging close to burnout. You sometimes feel the business is running you rather than the other way around.
The season is high-and-low, your revenue is up-and-down – you'd like to be able to better handle the impact of this rollercoaster industry on you and your business.
Now is the time to step off the rollercoaster, step up your leadership and step-change your business.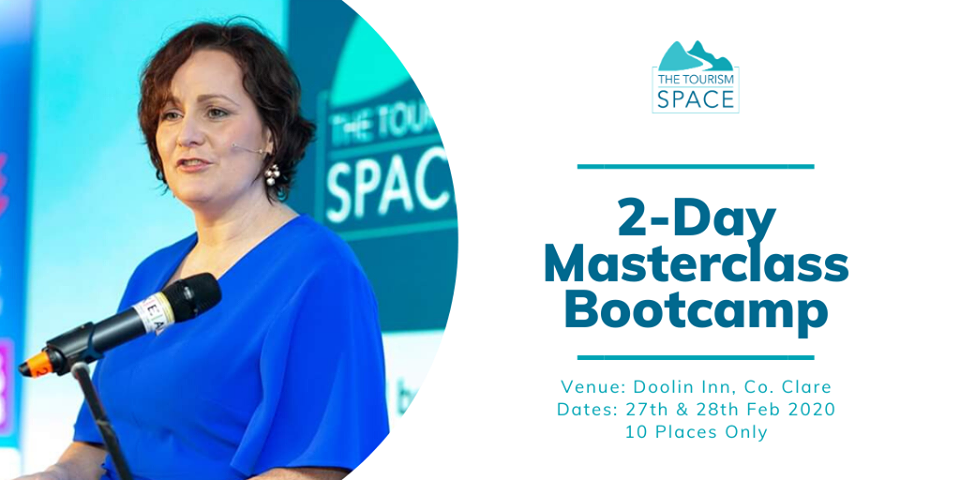 Discover and Implement
THE 4 POWERFUL PATHWAYS
proven to deliver greater success and prosperity year-after-year.
Vision & Goals: Know what you want.
Stand-Out: Message your Magic.
Business Dashboard: Know the numbers that matter.
Impact: Ramp up your productivity and leadership.
Build a business that lasts in the place that you love!
Venue: Doolin Inn
Dates: 27th & 28th February 2020
Times: 10:30am – 5.00pm Thursday 9.30am-4.30pm on Friday
Ticket: €599 – Includes All tuition, meals, accommodation and all program materials.
LIMITED TO 10 PARTICIPANTS
VIEW FULL PROGRAMME: www.thetourismspace.com
BOOK NOW: www.thetourismspace.com